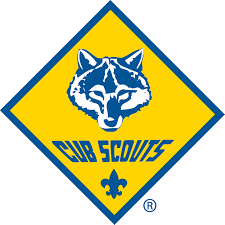 Cub Scouts
Cub Scouts is for youth from 7 to 10 years of age or first through fifth grade. The program is an emphasis on caring, nurturing relationships between boys and their parents, adult leaders, and friends. Cub Scouts programs help youth develop habits and attitudes of good citizenship, improve understanding of family, show how to be helpful and do one's best, positively influence character development and encourage spiritual growth and more.
The Purpose of Scouting:
To influence the development of character and encourage spiritual growth

To develop habits and attitudes of good citizenship

To encourage good sportsmanship and pride in growing strong in mind and body

To strengthen the ability to get along with other youth and respect other people

To foster a sense of personal achievement by developing new interests and skills

To show how to be helpful and do one's best

To provide fun and exciting new things to do

To prepare youth to become Boy Scouts
Membership:
For youth in the first through fifth grades(or ages 6,7,8,9 or 10)

Members are assigned to dens (a group of 6 to 8 boys)

Tiger Cubs (first graders) meet twice a month,including pack meeting

Wolf Scouts (second graders)

Bear Scouts (third graders)

Webelos Scouts ( fourth and fifth graders) meet weekly
Tiger Cubs:
A simple and fun program for first graders and their families

The youth and their adult partners are introduced to the exciting world of Cub Scouting as they "Search, Discover and Share" together.

The youth remain in the program until they complete the tiger cub advancements and then graduate into a Cub Scout den and are eligible to participate in summer activities
Volunteer Leadership:
Thousands of men and women are involved in the Cub Scout program

Serve in a variety of positions as unit leaders:
Cub master, den leader, committee member, Webelos leader, chartered representative

Cub Scouting is made available to groups having similar interest
If you would like to be a volunteer with the Southeast Lousina Council, BSA, Please contact the council office at 504-889-0388.
Who Pays For Scouting?
Groups are responsible for supporting Cub Scouting by the youth, the parents, the pack, the chartered organization and the community

Youth pay their own way by contributing dues each week.

The Pack obtains income on approved money-earning projects

Parents and the community provide support through the United Way, Friends of Scouting, and special contributions (This financial support provides training, outdoor programs, council service centers, and professional service for units.)
Activities and Sports:
Everything is Cub Scouting is designed to have the youth doing things.

The Aims of Scouting are citizenship, character development, and personal fitness are the focus on all activities

Activities are most effective in den and pack meetings

Fun and fitness are combined in the Cub Scout Sports program.
Camping:
Theme oriented, age appropriate camping programs that bring a Scout a world of imagination

Day camping comes to the boy in your local community during June

Cub adventure weekend is an overnight at Camp Perry experience in which Cub Scouts and Webelos camp within a developed theme of adventure and excitement

Camping programs combine fun and excitement with doing one's best, getting along with others and developing an appreciation for the ecology and the world of the outdoors
Everyone Plays:
Neighborhood based dens of same age youth are supervised by volunteer den leaders of men & women who help with age appropriate activities.

All dens meet once a month for a pack meeting-a highlight for the entire family

Parents see their youth interact with their friends

Meet other parents from surrounding areas

Share in their sons successes and achievements